Does It Hurt?
A Dialog to Help You Understand and Trust Acupuncture
Get the answers you need to feel informed and confident in the proven health benefits of acupuncture.
Acupuncturist Burton Moomaw demystifies acupuncture for patients and medical professionals in this very readable introductory book.
Paperback: $9.95, Kindle: $6.95 $2.99
---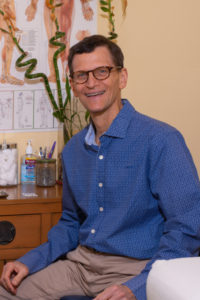 BURTON MOOMAW, LaC. DiplAc.
Welcome to Burton Moomaw Acupuncture located in Boone, North Carolina.
Health is the natural state of the human being. As we live life this state is challenged by accidents, emotional insults, nutritional challenges, and environmental factors. In a healthy state our bodies have an inherent ability to heal themselves. When we become stressed, physically or emotionally, this ability is pushed to its limit and we may become sick.
Acupuncture is a medical practice based on traditional Chinese medicine which has been practiced in Asia for at least 3, 000 years. It is used to maintain health as well as treat acute and chronic illness. As an acupuncturist in our modern era, I am excited to experience the very real healing that can occur in patients when the ancient principles of diagnosis and treatment are employed. As your acupuncturist I will always do my best to meet your needs in a caring, professional way.
---
What Can Acupuncture Treat?
Chinese Medicine is a complete healthcare system. It can treat acute and chronic physical illness and emotional problems. Any health issue has the potential to respond to acupuncture! This is a complimentary medicine, one that can complete the care of conventional medicine by helping patients that do not respond well to conventional therapies.
The World Health Organization has identified many conditions that respond to Acupuncture. The following is a partial list.

Stress
Anxiety
Fatigue
Depression
Emotional Distress
Insomnia
Smoking Cessation
Addictions
PTSD
Digestive
Obesity
Constipation
GERD
Gastritis
IBS
Colitis
Crohn's Disease
Respiratory
Asthma
Allergies
Sinusitis
Sore Throat
Cold/Flu
Tonsillitis
Rhinitis
Pain
Back
Arthritis
Sciatica
Knee
Neck
Headache
Muscle
Fibromyalgia
Neuropathy
TMJ
Reproductive
Menstrual Cycle
Hot Flashes
Menopause
Infertility
Incontinence
PMS
UTI
Prostate-BPH
Erectile Dysfunction
LEARN MORE ABOUT THE BENEFITS OF ACUPUNCTURE...
---
Latest from The Acupuncturist's Blog
I love a good breakfast! There is great truth to the saying that breakfast is the most important meal of the day. In fact in Chinese medicine the high point of stomach function is 7 AM to 9 AM. This is when digestive strength is the strongest and we can derive maximum energy from our […]
Ah, the common cold. For many this healthy reaction of their body to an outside germ is an uncomfortable nuisance. For others, however, it is a real concern because "it always goes to my lungs" which can lead to life-threatening pneumonia. Exactly what is this experience that we all have at some time in our […]
Do you feel uncertain, anxious or fearful about whether your immune system is protecting you? Do you feel you have a weak immune system and are at a loss for how to best support it? Do you find the whole concept of immunity baffling and mysterious? If your answer to any of these questions is […]